A full range of services for all your dental needs.
What dental services do we provide?
The services we provide include but are not limited to:
Dental Exams are an important part of preventive health care. We will clean your teeth and identify gum inflammation or bone loss, evaluate your risk of developing tooth decay and other oral health problems, as well as check your face, neck and mouth for abnormalities. – 

more info

Dental Cleanings involves removing plaque, tartar and stain from the crown and root surfaces of teeth. We then polish your teeth which helps prevent plaque from accumulating on the tooth surface. It also has the added benefit of whitening your smile. – 

more info

Laser Surgery is a precise and effective way to perform many dental procedures. The benefits can include shorter treatment time, faster healing and the minimization of infection and surrounding tissue damage as a result of treatment. It can also render the use of sutures unnecessary.

Periodontal Therapy is the treatment of infections of the structures around the teeth. Such treatments may include the deep cleaning of effected areas, medicated mouth washes or oral surgery. – 

more info

Dental Fillings is a type of restorative dentistry treatment used to repair minimal tooth fractures, tooth decay or otherwise damaged surfaces of the teeth. – 

more info

Root Canal Therapy is a dental procedure that is used to remove diseased tissue from the interior of a tooth and save the tooth structure. – 

more info

Tooth Extractions is the removal of teeth for a variety of reasons, including teeth that are too damaged to be saved, teeth that are impacted and to prepare the mouth for other procedures, such as adding braces. – 

more info

Emergency Visits – No appointment. No Waiting. – 

more info
Good oral hygiene, early detection and maintenance.
Why are dental examinations important?
What do our examinations include?
Dental X-rays: X-rays are taken of the teeth, bones, and soft tissues around them to help find problems with the teeth, mouth, and jaw.
Periodontal disease diagnosis: The examination focuses on bleeding or puffy gums, tooth infection, bad breadth, or any other problem around the tooth.
Oral cancer screening: This involves a thorough check up to examine if any signs of oral cancer exist. Regular examinations help in early diagnosis and treatable.
Cavities and tooth fractures: Checks on any possible wear and tear of cavities and detects tooth fractures.
Evaluating current restorations: A regular oral examination helps in evaluating the status of the restorations – fillings, veneers, crowns, implants, bridges and so on.
Examining tooth decay/caries/cavity: Early detection of tooth decay helps in timely treatment of the tooth decay which includes filling, crown, root canal treatment, extraction depending on the severity of the problem.
Prevent gum disease. Enjoy a whiter smile.
Why is professional teeth cleaning important?
What is involved in a dental cleaning?
Our typical professional dental cleaning procedure includes:
Plaque removal: Plague is a chalky substance that naturally accumulates on your teeth and destroys your tooth enamel resulting in tooth decay.
Tartar removal: Also known as Calculus, is hardened, mineralized plaque. It's rough surface provides an ideal medium for further plaque formation, which can irritate the lining between the tooth and gum causing gingivitis.
Polishing: Polishing leaves the surfaces of teeth clean and smooth so that bacteria are unable to stick to them. It also aids keeping teeth clean during regular home care.
It's not just about your teeth.
What is periodontal therapy?
What causes periodontal disease?
Symptoms of gum disease include:
Bad breath that won't go away
Red or swollen gums
Tender or bleeding gums
Painful chewing
Loose teeth
Sensitive teeth
Receding gums or longer appearing teeth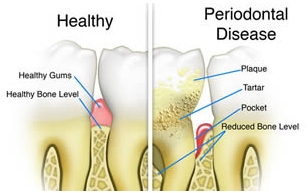 Repairing and restoring your teeth.
We use the the most advanced procedures and the latest most durable materials to repair and restore your teeth.
What is a dental filling?
Our procedures for prepping and filling your tooth consists of:
Removing the decayed tooth material
Cleaning the affected area
Filling the cleaned out cavity with a filling material
What materials can I use?
We offer our patients a variety of options according to your tastes and price range:
Composite fillings, our most popular option, are matched to be the same color as your teeth and therefore used where a natural appearance is desired. The ingredients are mixed and placed directly into the cavity, where they harden.
Amalgam (silver) fillings are resistant to wear and relatively inexpensive.
Porcelain fillings are called inlays or onlays and are produced to order in a lab and then bonded to the tooth. They can be matched to the color of the tooth and resist staining. A porcelain restoration generally covers most of the tooth.
The best teeth are the ones you already have.
We specialize in oral surgeries such as root canal therapy. Root canal therapy saves teeth that would otherwise be extracted.
What is root canal therapy?

What are the underlying causes?
Inflammation or infection of the pulp can have a variety of causes: deep decay, repeated dental procedures on the tooth, or a crack or chip in the tooth. In addition, an injury to a tooth may cause pulp damage even if the tooth has no visible chips or cracks.
What are the symptoms?
Signs to look for include pain, prolonged sensitivity to heat or cold, tenderness to touch and chewing, discoloration of the tooth, and swelling, drainage and tenderness in the lymph nodes as well as nearby bone and gingival tissues.
When it's an emergency, we're here.
When it's an emergency, we're here.
If you have an emergency, please stop in, or contact us at 770-996-8772
Tooth Pain: Rinse your mouth with warm water, the gently use dental floss to check and remove food and debris that may be stuck between your teeth. Take aspirin or acetaminophen to relieve the pain.
Cracked Tooth: Symptoms are usually characterized as a sharp pain to the tooth when pressure is applied (biting down or chewing). It is recommended that you rinse your mouth with warm water to clean the area and apply a cold compress to the mouth to reduce swelling.
Broken Tooth: Wash out your mouth with warm water, and if there is bleeding in the area, apply a gauze until the bleeding stops. If there is swelling and pain, apply a cold compress.